Sharjah! The name that unravels the mystic culture of UAE (United Arab Emirates), is the place you should plan to visit in your next trip. And if you are a solo female traveler, you can't ask for any better place to visit other than Sharjah!
In this blog, you will know and believe why Sharjah is the ultimate destination for every solo female traveler. So, ladies let's get going! Hit that plane, rent a car in Sharjah –right at the airport and embark on a journey that you will cherish for the rest of your life!
Sharjah is safe for females:
When it's a solo female travel trip, the thing which steals the thunder of excitement is the safety concern that our families have for us!
"Is that place safe?" "Will you be safe?"
But in Sharjah, you need to put a lid on these nagging thoughts.
Away from the crowded Dubai, despite being the third largest Emirate -Sharjah is calmer and quieter. That means you can enjoy your "vacay-mode" without any hassle of being man-handled. And if we have to talk about the brownie points of Sharjah – this place has strict laws – which means the crime rate is low – at least lower than rest of the other touristy places around the world. Moreover, with almost zero chances of finding any alcoholic man around, you are just safe!
And if you feel a bit baffled about travelling from one place to other, you don't need to worry. There are so many secure car rental companies in Sharjah which not only take you to places you want, but also ensures your safety and ease.
In the Arab world, as we all have notion that women can't go out – or even if they do- they need to dress in a proper way. Other notions that we have is that moving around in western clothes will be an invitation of male gaze or might offend the people around!
Let's set these notions right! While you need to be a bit cautious about dress code in this part of the world, you don't have to cover yourself up. A pair of cool shots, long skirts and tees are all set to rock that travel look.
You can also find so many "women-only" zones – both time and place – in the city, to surcharge that girl power feeling within you.
Low on budget? Don't worry:Unlike expensive Dubai, Sharjah is one of the cost-effective travel destinations in UAE. If you think that is good news, prepare yourself to know more! Sharjah is just in the neighborhood of Dubai –so this place has it all!  That means you can have all the fun that Dubai has and enjoy all the serenity that Sharjah has  – at lower prices in this Emirate.
You can even extend your trip for a month and enjoy your "budget-centric" trip like a royal. You can book your advance air tickets to Sharjah at reasonable prices. In Sharjah you can find good deals and offers in many international hotels, you can also find many cost-friendly safe hotels as well. To enjoy your trip even more, as you can avail the services of monthly car rental in Sharjah too!
Girl, Sharjah is home of your passion:
Today's women have making their names in every face and front of the world. And giving wings to your passion, Dubai has it all. Be it art, sports, outdoor exploration – Sharjah has it all!
Home to over 20 museums, Sharjah is the cultural capital of the UAE! If you are an ardent fan of calligraphy, solitude, history, antiques and reminiscing coming back from Sharjah will be hard for you. If I particularly talk about the Art Museum – it contains many works bought personally by the ruler Sultan bin Muhammad Al-Qasimi. Visiting to these museums will make you believe that Sharjah is a gem in the desert!
Sharjah and Cricket – these two names always have been named together since 1980s. And the impact that it has got over cricket lovers since then is just overwhelming. If you ask any cricket lover to define Sharjah in a word or two, the most obvious answer that can come will be "Pitch Perfect"!So if you are a cricket lover, you must definitely hit the city to visit the historic Sharjah Stadium – that even hold a world record for hosting most one-day cricket matches in the world!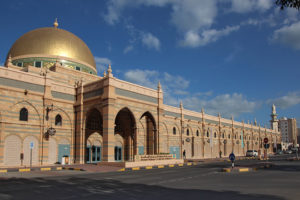 If you have a thing for all the architectural marvels, Sharjah is the best get-away for you. A city of beautiful mosques, in Sharjah you can feast your eyes with Persian styled architecture.
Treat your senses :
And to end this blog, let me quickly provide you the list of some must-go-to places to visit in Sharjah, Make sure that you check-in at these places.
The Blue Souk – Architectural marvel and a happening shopping mall.
Sharjah Natural History Museum and Dessert Park – One of its kind museum.
Sharjah Archeology Museum – A museum that holds antiques which dates back to Stone-age.
Qanat al Qasba – This place is the hub of all the best thing that Sharjah has. Unravel this place yourself!
Sharjah Aquarium – One of best in the world, this walk-through museum has over 250 different sea creatures.