Today, innovations have become fathomable to a certain human-degree, but when it comes to UAE (United Arab Emirate) – they always set -rather – raise its benchmark. Thus, UAE and groundbreaking records have become synonyms. Right from bagging the title of giving the world its first flying cars and hyperloops, UAE has already disrupted our imagination to foresee the future of travel.
If you think that is a lot, you are wrong! There is more.  The UAE is a land of the unstoppable – when it comes to break-through inventions. A news from this future-land has sent ripples across social-media when Khaleej Times, a UAE daily, broke another mind-boggling news from this wonderland. So, let's get ready to unravel the mystery of what UAE has come-up with this time!
You soon will be able to travel between Mumbai (India) and Fujairah (Dubai) through an under-water rail! Wait, what? Yes, that's exactly everyone's reaction right now. You read it right!
Laid for a distance less than 2000 km, you can easily travel from Fujairah ( Dubai) to the Indian city of Mumbai by undersea rail network. Besides taking passengers, this under-water rail-track will also be used to carry trade of goods and oil & gas between India to the UAE, respectively. This news was confirmed by National Advisor Bureau Limited managing director and chief consultant, Abdulla Alshehhi, during the UAE-India Conclave in Abu Dhabi.
Related: FLYING A CAR IN DUBAI NO MORE A DREAM, KNOW HOW?
Once this project will be successfully executed, we can imagine how easy it will be for anyone to travel between these two countries. And not to forget, how magical this wonderful under-water journey is going to be – when you will find yourself passing through the deep blue ocean full of marvellous marine creatures and corals!!!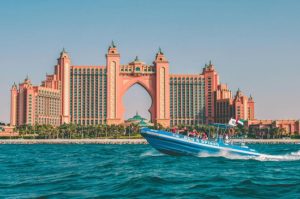 Being home to world's tallest building, Burj Khalifa; to raising an entire city on a man-made island, Palm Jumeirah; to create a destination of blooming perennial flowers, Miracle Garden – UAE, Dubai always leaves us baffled! So, whenever you think of any wishful innovation, you will find the Emirate enjoying their first movers' advantage. It won't be wrong to say that UAE – and specifically its cities like Dubai – is a man-made marvel.
Related: DUBAI TO RIYADH IN MINUTES! TIME TO BELIEVE THE HYPE?