If you are a history enthusiast then you should plan your trip to Dubai to better understand Emirati culture and what Dubai was like before the construction of Burj Khalifa, glitzy skyscrapers, and cutting-edge technology.
From family homes to places of worship, architectural beauties and sprawling parks, there is a story no matter where you look in Dubai.
We have picked top 5 historic places in Dubai you must visit this spring. You can utilize the services of local or international rent a car companies in Dubai to reach these historic places.
Also Read: 5 WAYS TO AVOID TRAFFIC FINES IN DUBAI IN 2018
Jumeirah Mosque- Jumeirah Mosque is one of the attractive and biggest mosques in Dubai. A picturesque landmark, especially when lit up at dusk, it's the only Dubai mosque that welcomes non-Muslim guests six days a week. The Mosque, which is large enough to hold up to 1,200 worshippers, was built entirely from white stone in the medieval Fatimid tradition, with towering twin minarets framing a large central dome.
You can visit the mosque by joining a tour organized by the Sheikh Mohammed Centre for Cultural Understanding (SMCCU). The tour is organized 6 days a week from Saturday through Thursday at 10:00 am.  Make sure to wear a modest dress while you visit the Mosque.
You can easily reach the place by availing the services of local car hire companies in Dubai
Also Read: 5 CHEAP WAYS TO RENT A CAR ON MONTHLY BASIS IN DUBAI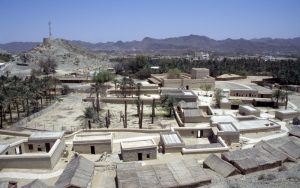 Hatta Heritage Village- Set in the heart of Hatta mountainous area within Dubai, Heritage village was reconstructed and opened for public in 2001. This village which is 2000 – 3000 years old brings life to Dubai's heritage by allowing visitors to see the traditional huts, buildings, two castles and a fort. The village allows visitors to explore the traditional mountainous life of Dubai as it is stocked with life-size prototypes, sculptures, graphics and documents of ancient Hatta.
If you're curious to know how Emirati villages looked years ago, a trip to Hatta Heritage Village will definitely cure your curiosity. You can visit the village from Saturday through Thursday from 7:30 am to 8:30 pm and on Friday from 2:30 pm till 8:30 pm.To reach Hatta heritage, you can avail the services of local car lease companies in Dubai.
Bastakiya Quarters- Amid the glitz and glam of downtown Dubai lies the Bastakiya Quarter, the city's historic district. The village has earned its name from the Bastak (Iranian) traders that settled here in the 19th century. The place will give you an idea of how life has evolved, grown and changed in Dubai. Today, the Quarter is home to many housing art galleries, cafes and cultural institutions, including the Majlis Gallery, which showcases Middle Eastern art.
Also Read: BEST LUXURY CARS FOR RENT ACROSS DUBAI
Dubai Museum- Housed in Al-Fahidi Fort, the building was built around 1799 and is the oldest standing building in Dubai. The fort was originally constructed to defend Dubai against invasion and it has served as a palace, garrison, and prison in the past.
Beautifully renovated in 1970, the fort became Dubai Museum in 1971 with additional art galleries and artifacts added in 1993. Today, the Dubai Museum offers an intriguing insight into the city's heritage and culture by exhibiting art galleries, Islamic period discoveries, ancient instruments, handcrafted weapons and the re-made grave from the Al-Qusais tombs.
You can visit the museum from Saturday through Thursday from 8:30 am to 8:30 pm and on Friday from 2:30 pm till 8:30 pm.
Sheikh Saeed Al-Maktoum's House- It is a historic building that served as the residence of Sheikh Saeed from 1912 until his death in 1958. The building located along the Dubai Creek in the locality of Al Shindagha gives a captivating glimpse of the region's history. The museum is divided into wings as per the different historical and cultural periods. The rooms are distributed over two floors and are dazzling with their antique carpets and furniture.
 Today the museum documents the evolution of Dubai through an extensive collection of black and white photographs. The ambiance takes you back to the Dubai of the mid-19th century to experience how Dubai's ruling family spent their time.
You can visit the house from Saturday through Thursday from 8:00 am to 8:30 pm and on Friday from 3:00 pm till 9:30 pm.
You can reach the place via Bur Dubai Bus Stand Metro which is very near to the site or simply avail the services of any local Luxury Car Rental company in Dubai.
A glimpse of traditional Dubai can be seen while exploring these marvelous historical destinations. These are must-visit places if you want to find out more about Dubai's great past. So, if you are planning your trip to Dubai, make sure you explore all the above-mentioned destinations in order to learn about the rich heritage of Dubai.